plywood hot press machine is one of the important plywood machinery.the most commonly used plywood hot press machine is 500T 15 layers.

the machine pressure and layer quantity is customized according to product and production capacity.It is the equipment for hot pressing of the
board slab after the glue combination. The different types of plywood has different requirements on the performance of the press: ordinary plywood,
aero plywood and ship plywood are required to increase the pressure in turn. Plywood hot press consists
of three parts: the hot press main machine, the control drive part (hydraulic system and electric control system), and the heating system.
China GEELONG is professional plywood machine manufacturer. GEELONG produce different types plywood hot press machine.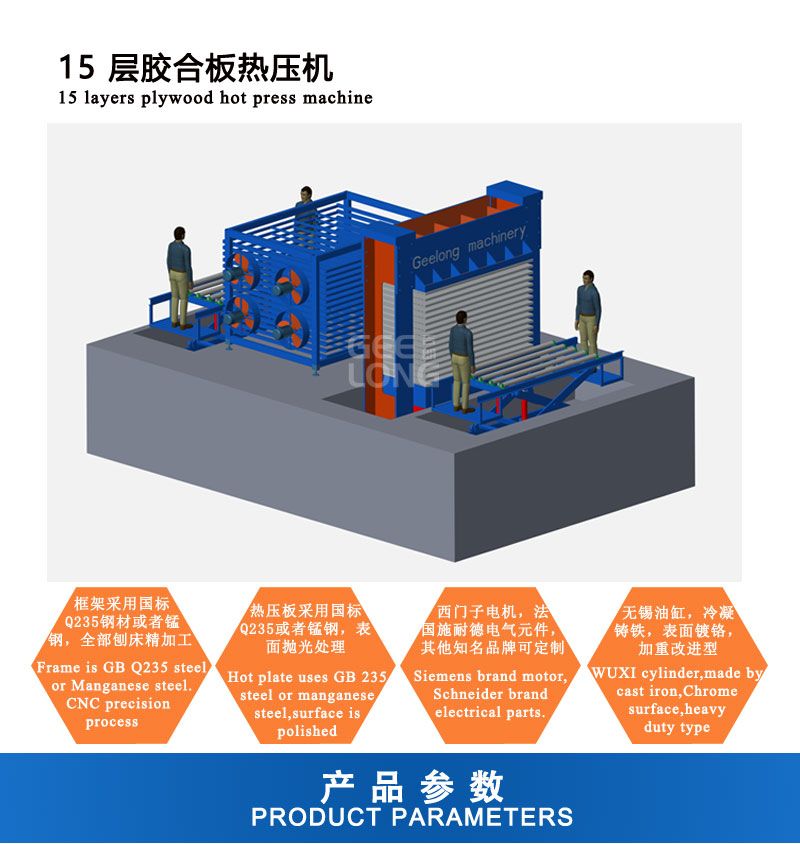 | | |
| --- | --- |
| pressure | 500T |
| board feeding direction | transverse |
| layer quantity | 15 layers |
| opening distance | 70mm |
| hot platen quantity | 16 pcs |
| hot platen size | 1370*2700*42mm |
| hot platen inside pipeline | two inlet and two outlet |
| hot platen quantity | 16 pcs |
| cylinder | Ø360mm*2pcs |
| cylinder stroke | 1050mm |
| total power | 29.5kw |
| control system | automatic PLC system |
| total weight | 33Ton |
| machine size | 3800x1370x3942mm |