Cylinder nozzle oil leaking, if not quality problem, solution and methods as below:
1. Using the low pressure pump, manual control increase the hot platen, when it is near close, stop the working of hydraulic station, REMEMBER NOT to use high-pressure pump to give pressure of cylinders after, then conduct the repairing work, this is VERY DANGEROUS!!! ONLY IN WITHOUT ANY PRESSURE CONDITION TO CONDUCT THIS REPAIRING WORK.
2. Using 4 pcs big thickness steel square tube, thickness must be more than 10mm or steel round tube Φ108, thickness: 10mm, support the middle tray, and use the welding machine to do the welding work around the supporting tube and hot press frame body, and must be sure, the four pcs supporters, can ensure and 100% support 20000KGS weight(10 layers lamination hot press machine), and must ensure the safety of repairing man.

3. After supporters are finished, use electrical driller, at the end of the main pipeline, drill one holes for oil leaking and come out, use one tank to receive the oil from this holes, till all hydraulic oil leaking finished, and then do the next steps.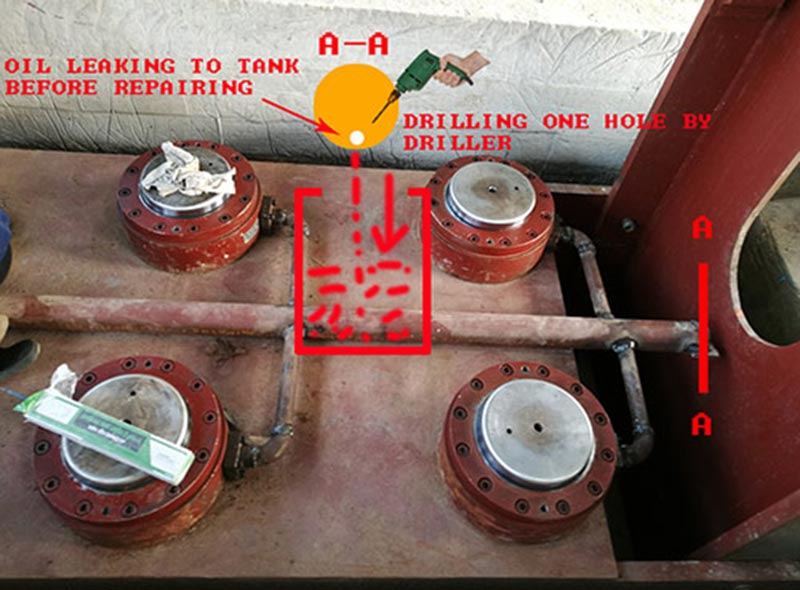 4.Loose the bolts of cylinder's flanges, and remove the main pipeline and braches pipelines, and please make new main pipelines and braches according to the layout seller already put asd below, and please correct the cylinder nozzle position, through the measuring work and layout, find the position of the center hole of the flange hole, must be avoided from excessive position deviation.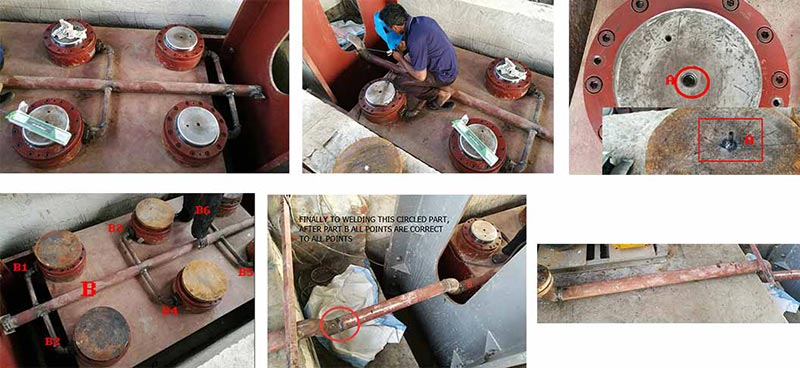 5. After pipeline layout finished, please place the new seals first, and ensure before placing, the seal is 100% not damage and ageing, placing position 100% correct, then u can fasten the bolts of flanges, and must pay more attention in, flanges of six cylinders, and four bolts of each flanges, must average fastening, not fastening all to end one by one, this is WRONG!

6. After all work is finished, please fill hydraulic oil into the hydraulic tank, restart the hydraulic station, manual running the low pressure pump, and let the cylinder filling with full hydraulic oil, after filling already, under the safety condition, remove the supporters(supporting frames.)
7. Now you can let the hot press machine all close, and use 4MPA, 6MPA, 8MPA, 10MPA, 12MPA...etc to testing the pressure, progressive pressure step by step, and at the same time to check the cylinder nozzles have the oil leaking problem or not, MUST REMEMBER, increase the pressure step by step, and check the nozzles have the oil leaking or not, if have the oil leaking, please kindly inform our company, and our company will send u cylinder technician to check the situation, if the cylinder has the quality problem, we will give u new cylinder for replacing, our technical person go and back all costs, SELLER WILL PAY! NOT NEED BUYER PAY!

AFTER FINISHED, 6 CYLINDER LAMINATION HOT PRESS MACHINE WHOLE PIC:
If you have any questions please contact us technician person to get more details:
Whatsapp/mobile/wechat: +86 159 6334 7203 (Ms.Jessie)
Email: jessie@geelonggroup.com
Contacting website: